BAND BIOS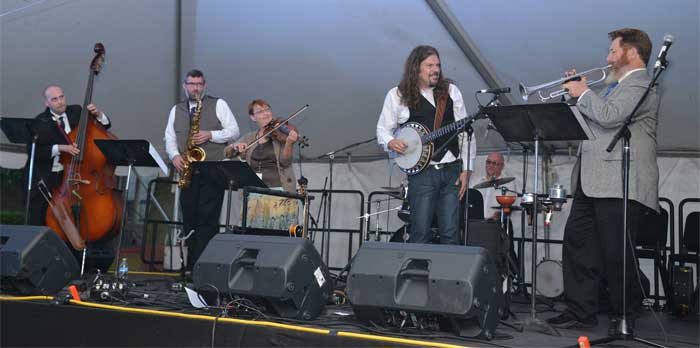 Andy Callis
In 1989, Andy Callis bought an accordion from a woman in Hammond, Indiana for $50.00. The rest is history. He enjoys playing many different ethnic musics on the accordion: in addition to Klezmer, he has played with Zydeco and Irish bands in Lansing. When not playing accordion, he teaches Theatre at Lansing Community College.
Susanne Garber
Susanne has been performing on her violin for over 30 years. She is an avid teacher and loves all genres of music. Susanne has performed in many symphony orchestras as well as obtaining her doctorate in musical performance. She is currently Head of Strings and Suzuki Program Director at the MSU Community Music School along with a member of the Lansing Symphony. Susanne is a world traveler and has performed in Europe and Korea.
Ben Godoshian
Ben has been honing his musical craft as a percussionist for over 27 years beginning at Haslett schools. Steeped in stylistic variety, Ben took formal training at Michigan State University in the jazz studies program; he sang in vocal jazz ensembles and performed with jazz bands on timbales, congas, and drumset. In the early 1990s, he 'marched' snare in the championship MSU and Glassmen drumlines. Ben sang bass with the MSU mens' glee club who toured eastern Europe in '95. An in-demand music educator, Ben teaches privately at Marshall Music in Lansing (as he has) since 1997. Ben has performed and recorded, alt-country, funk, fusion, musical theatre, rock, country, and African drum and dance in Michigan and across the U.S. Ben also plays vintage electric keyboards and bass. Currently, catch him soul-singing and drumming with funky Easybabies, and on traps with Heartland Klezmorim, to name a few.

Chris Hamilton
Chris has been playing music for nearly thirty years. He has performed and recorded with a variety of ensembles on piano, bass, guitar and ukulele. Currently, he teaches at Elderly Instruments and at the MSU Community Music School. Chris received his bachelor in music from Michigan State University studying piano, double bass, and composition.
Drew Howard
Drew is a multi-instrumentalist with decades of stage, session and music production experience, ranging from local media to national TV and radio ad campaigns for Ford, GM, Meijer, Michelin, award-winning appearances on PBS Backstage Pass, appearing on over a 100 albums. Drew is a 2010 Detroit Music Award winner, published by BMG, with performances across much of the US and Europe, from Alaska to Amsterdam. Drew is honored to be a member of the Earthwork Music collective based in Michigan.
David Klein
David has been performing on trumpet, cornet, and flugelhorn for many years. He has experience performing in a wide variety of genres including symphonic, jazz, big band, musical theater, and klezmer. David is also in demand as a teacher of trumpet and cornet. He has taught at Marshall Music in Lansing for over 14 years and taught at Albion College for many years. For three years, David has been an instructor at the Wheatland Traditional Arts Weekend. David's musical arrangements have been heard in many parts of the United States.
Will Metz
"Super Size" Will Metz is a Lansing native who plays tenor sax and has done so for a while now. He brings a unique approach to the horn with a background playing jazz, blues, rock, hip-hop, country, and Klezmer – sometimes at the same time. By day, he is a mild-mannered data analyst, but can often be found after hours playing with HK or rocking out with his other group, Big Willy.
Contact David Klein via email
Heartland Klezmorim performs concerts and private events of all kinds, from traditional Hanukkah service to bar/bat mitzvahs, anniversaries, weddings and folk festivals around Michigan.